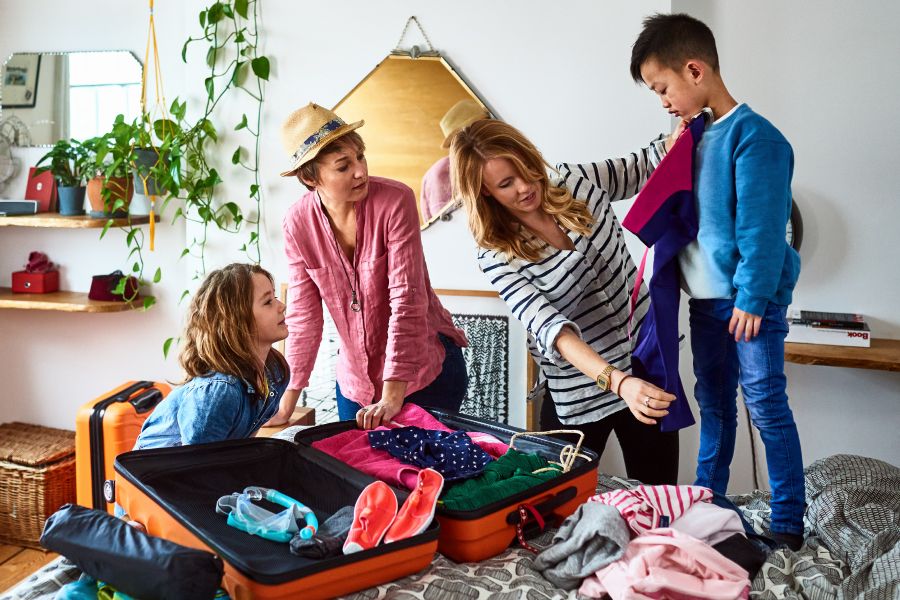 Your Holiday Checklist at Teesside Park 
Whether you're camping in Northumberland or lazing on a beach in Corfu, this summer is all about some much-needed downtime with family and friends basking in some sunshine.  
To make your life easier, we've put together a list of summer 2022 must-buys alongside holiday prep and useful essentials for city breaks, road trips, beach holidays, weekends away and long summer holidays.  
Just don't forget your toothbrush.  
This summer's holiday clothes and footwear to know

Image provided by M&S
This summer holiday season, colour and fun are back. Think ice-cream shades, 90s-style slip and prairie dresses with jumpsuits (Marks & Spencer, New Look, Next and River Island are filled with on-trend beautiful collections right now) and for this season's sky-high platforms and sliders alongside ballet pumps, clogs and knee-high boots head to schuh and Clarks.
Delicate and chunky gold chains (wear round bellies, hands and feet for Ibiza vibes), giant hoops and statement hair slides are leading the way in accessories (go to Pandora and River Island for inspiration). For evenings, wideleg trousers and oversize shirts are your go-to for easy tailoring while airport looks are all about neat-but-comfy joggers and sweatshirts.

Image provided by River Island
For men, tropical print and board shorts with lightweight jackets and polos will instantly update his holiday wardrobe with bright citrus pops of colour and accessories that embrace the summer feelgood factor.

Image provided by M&S
Visit Next, River Island, USC and Marks & Spencer for breakout looks to suit him. For fresh out-the-box trainers, don't miss Clarks, schuh, JD Sports and SportsDirect.com.
Get some new sunglasses

Image provided by River Island
When it comes to women's sunglasses, colourful, oversize and angular frames are leading trends for s/s 2022 with men's leaning more towards more conservative tortoiseshell and metal looks. Next, Marks & Spencer, River Island and TK Maxx are essential pre-holiday visits.
Swimwear for the pool and beach

Image provided by M&S
Swimwear has upped its game this season with colourful crochet, cutout slimline one pieces and 50s silhouettes making for wearable and universally good-looking pool and beachwear from Marks & Spencer, New Look and Next. Meanwhile for men, it's sport-casual (think 70s-Californian running shorts) or more tailored finishes to give a slightly preppy look – try River Island.
Bags and luggage for travelling

Image provided by TK Maxx
The bum bag/banana sling/fanny pack is everywhere this summer and perfect for holiday packing. You'll need to complement it with a useful tote though for those everyday vacation essentials – straw, crochet and colourful are big while you can also find everything from cabin bags to family-sized cases at TK Maxx.
Must-buy SPF and skincare
In need of some Vitamin D? Don't leave home without your SPF and sunscreens whatever your skintone (there are some excellent transparent sunscreens designed for darker skintones that won't leave that annoying white residue). Even on cloudy summer days in the UK, you should be applying SPF when the UV index is at its highest between 11am and 3pm (remember that SPF moisturisers are good but no replacement for sun cream).
UVA causes skin ageing while UVB causes sunburn so when buying good sunscreen, look for a UVA logo with the letters UVA printed in a circle or choose a four of five-star UVA rating. UVB rays are responsible for the vast majority of sunburn cases and linked with increased risk of skin cancer; SPFs with 50+ offer the strongest forms of UVB protection and you should wear an SPF of at least 30 in the summer.
For children under the age of two, UVA clothing and broad-brimmed hats are excellent buys as they protect the back of the neck and ears as well as providing shade for the face. A sunscreen with at least SPF 30 and a high UVA protection should be applied to children every two to three hours. And, don't forget your hair sunscreen too.
For all your skincare needs from go-to brands including L'Oreal, La Roche-Posay, Garnier, Avon and Nivea, try Boots and Superdrug.
Beauty and travel essentials
From a signature summer fragrance to bronzers and lipsticks from Boots and Superdrug (orange and pink vs neutrals), update your beauty bag before you get on board your flight. If you're carrying your bags on the plane, remember to ensure you decant all your favourite items into 100ml travel sizes. Then, don't forget essentials such as dry shampoo, moisturising conditioners for curls and Afro hair, waterproof mascaras that can be worn to the sea and pool and soothing body moisturisers.
Plus there's the practical bits: mosquito repellent sprays and plug-ins, anti-insect bite creams and antihistamines, ear plugs for the flight, Calpol, plasters and Sudocrem for children plus wet wipes and contact lens solution.
Holiday tech accessories – don't forget your charger
If you don't want to spend the first morning of your holiday trying to find the local tech supplier then now's your chance to stock up on the holiday accessory essentials at Currys, WH Smith and Boots. Don't forget essential hair straighteners and curlers, travel adaptors and hairdryers and take a travel charging unit in case anything goes walkabout and you desperately need to access tickets and contact details on your phone. You can also pick up handy passport and document folders at WH Smith so you don't mislay your paperwork.
Holiday essentials for kids

Image provided by River Island
For kids' swimwear, summer outfits and shoes, head to River Island, Next, Marks & Spencer, Mamas & Papas and Skechers. For oversize beach towels, inflatables, armbands and buckets and spades, TK Maxx is the place to buy. Pick up puzzle books, fiction and games for them (and you) at WH Smith.

Image provided by M&S
Finally…
We recommend pre-holiday cocktails, beers and food from any of our incredible cafes and restaurants as your reward. Happy holiday shopping.
Discover the best places to eat, drink and shop at Teesside Park and follow us @teesside_park 
Last updated Friday 8 September, 2023